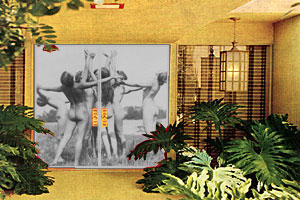 You might possibly not know
Trudy
. If so, you are much the poorer for the lack. Trudy was a blogger long before the word "blog" had even been invented. Her first dated post goes all the way back to the Cretaceous -
July 23rd, 1995
to be exact - and I can honestly say that Trudy was indeed a voice in the wilderness, calling out for peace, love and complicated cocktails long before it was in fashion.
Trudy, as you may or may not know, is her own special creation - it was never quite clear whether she was female, male, gay, straight, transgendered, transvested or simply a
Pontiac TransAm
with a clever alter ego - but no matter. Trudy welcomed all into her
conversation pit
, had witty banter with the worthy and managed to put the unworthy in their respective places in a most amusing and loquacious way.
In her last post dated 28 September 2006, she voices a certain world-weariness with which I can identify - having changed my
nom-de-blog
from the confrontational
Angry Homo
to the more mainstream NeoYankee... but it hurts, oh, god, it hurts.
Trudy, I for one miss your witty conversation, your sparkling repartee, and of course your cocktail recipes. You are a true original, and you shall be missed. My conversation pit
nom de plume
"Aquanetta di Seraglio (Mlle.)" shall be retired forevermore.
Unless, of course, you're just on a very LONG vacation, in which case... just whatinhell has Abbatoir been up to???